I just recently purcahsed some
belly butter
for my
quickly growing baby bump from
Eucalypto Organics
.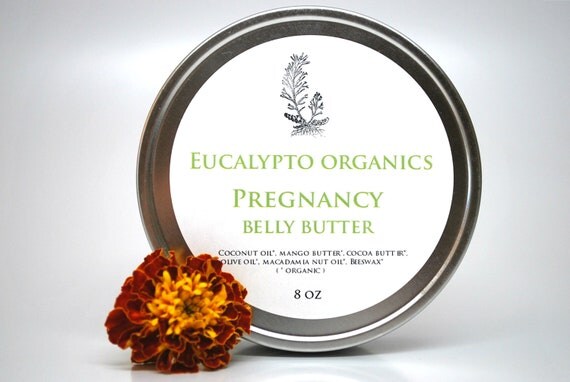 I bought some belly lotion at MotherHood Maternity, but I found it's
not oily enough
!
I have read that it is best to exfoliate the stomach area and then apply something with lots of natural oils.
Here a little blurb about
Eucalypto Organics belly butter:
"Blended with Organic Coconut Oil and Mango & Cocoa Butters this cream is naturally rich in vitamins A, E, and F which are essential for a healthy skin balance and it penetrates deeply to help restore elasticity. Also provides collagen which prevents wrinkles and stretch marks."
Sounds amazing and you get to choose your scent: Lavender, Rose Geranium, Grapefruit ,Lavender & Grapefruit, Lemon, Ylang Ylang, Sweet Orange or Unscented.
It was

$

13.00

USD

plus

$

3.50

USD

for shipping which is very affordable compared to other pricy belly butters I have seen online.
I hope to receive it soon and will update this post and let you know asap what I think of the packaging, scent and product!
UPDATE:
THIS stuff is
AMAZING!
I have used nothing else since I got it the other day! It arrived quickly and nicely packaged. It's super moisturizing and has a nice sweet, but soft scent. Exactly what I wanted!